RICHE embraces high-end lighting technology with contemporary design. Each brand it represents has been carefully selected for its history and its share in evolving lighting design. Therefore, RICHE accommodates unique decorative and architectural lightings, and it always illuminates the trail of novelties in the Greek market. But RICHE is much more than lightings.
RICHE provides lighting consulting; it identifies the needs of each space and designs the lighting scenario. The lightings, as items, play their functional and decorative role in a holistic scene. When the needs of the client cannot be covered by what the lighting industry has to offer, then RICHE has the proficiency to create bespoke lighting, in cooperation with the top factories in the world.
Furthermore, RICHE represents world class brands of surfaces, which integrate with light in a unique fashion, producing magnificent interior and exterior design.
Finally, RICHE extends beyond products and services. The need to integrate and illuminate the contemporary art, the industrial design, and the light, has brought to life ICON, which is co-created by Markos Vouzounerakis and significant Greek artists. Coherently, RICHE Gallery is the epicenter of contemporary Greek artists, who are inspired by architecture and design.
MARKOS VOUZOUNERAKIS: AN ADVENTURE OF LIGHT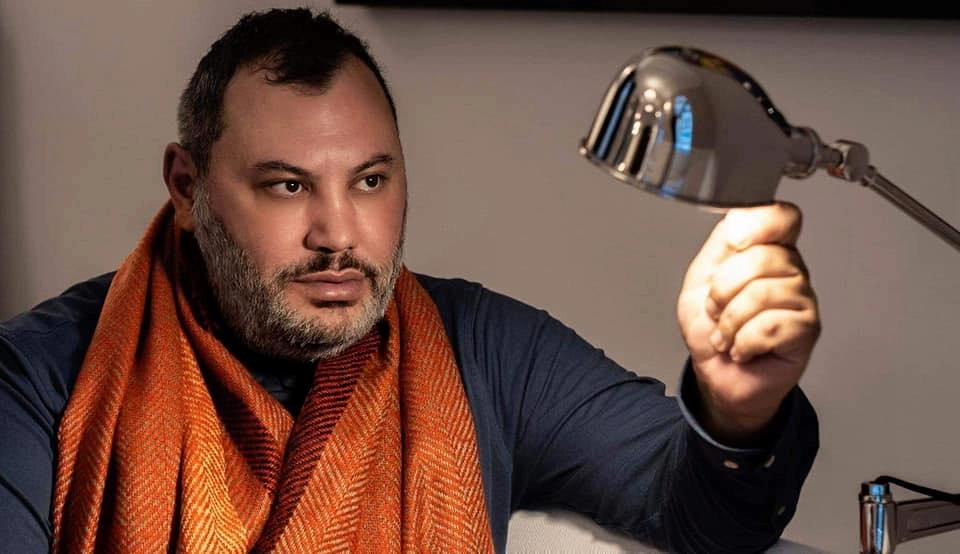 Every time I find myself in the Museum of Modern Art, Paris and admire the 624m² of the "Electricity Fairy", the colossal work of Raul Ntyfy, I think of my dear friend Marco Vouzouneraki. Its history is closely related to the Shinning Fairy, as we imagined her through the work of the famous painter. Although Marco did not set his eyes on her till a later age, I'm positive that she appeared by him, next to his cot and magically touched him with her wand casting him with the early love of beauty and light in all its versions. Since then his fate was determined and deeply connected to the electric rays in a most unexpected way.
To his parents, owners of an electrical equipment store, it is that Marcos owes his awareness of lighting and design.
Thought his genuine awareness in lighting and design is owed to his parents, owners of an electrical equipment store, it was via Marco's studies in the area of visual arts and further personal research which determined a career where all his talents could be expressed and developed.
His love towards modern materials, the design of light, its direct actions and changes where phenomena studied at a time when the world of art was particularly interested in the utilization of an object of art and no longer distinguished it from its practical applications. In International Museums of Modern and Contemporary Art utilitarian objects designed by great designers are placed honorary among paintings, drawings and sculptures. Grand creators such as Joe Colombo, Le Corbusier, Stark are rightly enjoyed in favour of the public. They sit beautify within our personal environment and make our interiors a comfortable, pleasant and aesthetic home.
Marco's adventures began once as soon as he made clear himself and to his parents that the family business would no longer be part of his life. "Just give me a warehouse and ten lights," he said, and soon moved to Piraeus, in a garden with the slogan "Come and let's talk about your lighting." Good luck follows and gifts the adventurous, especially when they have talent; five years later Vouzounerakis "enlightened" those who trusted him. His first successful design study was the lit mast of the Yacht Club of Greece!
In 2005, he moved his firm in the heart of Kifissia. He captured and decorated with unique and personal taste, an ideal venue of light and design, a permanent accommodation of his dream. The combination of visual arts and design. In his glittering gallery various works coexist and interact, with incredible harmony and beauty. Amongst them the ICON; Artistic objects, inspired and invented by Marco himself. Objects consisted of glass, steel and acrylic, highlighting art works, giving them an immaterial luminous aura.
"My real education was, apart from my studies, the large design exhibitions, monitoring international organizations that create utilitarian objects", says Marco Vouzounerakis. "I was interested in their evolution in time, the way they redefine themselves. Each designer has unique ways and qualities in which their constructions are utilize. I was mainly interested in essence of light therefore I learned a lot from theatre lighting illustrations. The scenography of the object itself, the way it is enclosed in a space and how it draws and directs ones gaze. Light has the power to cause feelings of pleasant stresses, and drama.
Light is man friendly, it is a companionship. It widens space thought darkness only narrows it, making it suffocating. Therefore I studied numerous lighting solutions by great artists. My lighting studies and my passion to paintings, where those who made me imagine the ICON, a painting composition and industrial product.
I chose an experiential form, a form which for long has circulated in our daily routine, a vinyl disk cover. The eye has its own habits and thereby it seeks forms and sizes which it has viewed before; therefore I used it as the basis for an original artistic construction.
Paintings rest in the ICON, on a metal background and are encased in a Plexiglas box. The Plexiglas's distance and shine gives a third dimension to the object. The light penetrating form the back "gives life" the colours of the artwork whilst generating phosphorescent glow.
The ICON is a popularization of Painting. It is a proposal and an invitation, to artists, for them to create works for this very use. It's like giving a chance to artists to express themselves based on another dynamic, creating something more decorative, perhaps easier, but also very attractive. Each work stands alone. However the relatively small size offers the possibility to the collector to acquire more than one ICON, perhaps several, to intervene in their arrangement making his own composition in his space. Contributing, let's say, to the final outcome of the project.
I was fortunate enough to have renowned artists like VASSILIKI, George Zongolopoulos, Angelos Antonopoulos, Grigoris Lagos, Paraskevi Gardeli and other to respond spontaneously in creating some of the first artworks to be translated into the ICON. Dimitris Mytaras, Achilleas Christidis, Harry Lampert etc. are also a few who have created works for the ICON, acquiring an additional artistic element, a special glow, a sense of an extremely charming modernity.